The look of the final evening of Sanremo in 2015 were the most elegant and sophisticated of this edition, outfits that this year more than ever celebrate the excellence of Italian fashion. Glamorous dresses have been the choice of presenters Emma and Arisa, enchanting Rocio Munoz Morales, of the singers in the competition and the guests, unique creations of which, we are sure, will be discussed for a long time.
As it was easy to imagine, the most fashionable woman on the stage of the Ariston all evenings of the race was Rocio Munoz Morales, gloved during five episodes in creations that have always valued. During the first evening of Sanremo in 2015 the actress has brought Ariston class timeless Armani Prive, while in the second and third installment of her looks were signed Roberto Cavalli Atelier. For the last two episodes the baton is passed to Alberta Ferretti: the first mermaid dress by magenta tulle inserts along the entire length leaves everyone speechless, while the second is a dress with tulle skirts wider the base and from the top silk and mikado, with curls on the side.
Arisa has chosen to rely on another Italian designer of gearing Daniele Carlotta, whose sexy dresses are likely to be discussed, criticized and appreciated for a long time. For the final evening Arisa appears on stage wearing a black and white striped dress with red decorations, a very original structured model. The second is a more classic black dress with mesh sleeves in tulle.
Even the look of Emma have held court in this edition, criticized by some, appreciated by others, but always in the spotlight. After the creations Luisa Beccaria worn in the fourth episode of the Sanremo Music Festival 2015, for the final Emma tip of a black jumpsuit Gucci with large gem stones along the bodice combined with rolled ankle boot. Elegant the second model, a black suit with a pencil skirt and bodice covered in laminated short-sleeved shirt.
Nina Zilli chose to end a glittering dress in black with silver details, paired with maxi necklace and sandals with high heels, look designed by Vivienne Westwood. Long white lace dress with peplum and a cut-out detail along the sides and the bodice for Chiara, a chic creations by Stella McCartney.
Malika Ayane tip once on a minimal chic dress in the same form as those of the previous evenings but in black, while Annalisa wearing one of the best looks of the evening, a pleated dress with multicolor print Just Cavalli.
Leather black for Irene Grandi pointing a minidress with waistcoat fringed in total black, while Bianca Atzei choose a new creation Antonio Marras style than the other episodes, based on gray and black. Grace Michele opts for a look in style mannish with tie undone.
Among the guests of the evening super even Will Smith and Margot Robbie, the latter in a lovely two-tone dress with black velvet bands on the basis taupe. Gianna Nannini leads to Sanremo the mannish style that loves always, coming down the stairs with the Ariston complete with jacket and trousers in total white paired with Texan boots with big studs.
Gallery
Rocio Munoz Morales attends the 65th Festival della …
Source: gettyimages.co.uk
Sanremo 2015
Source: gettyimages.co.uk
FESTIVAL DI SANREMO 2015: ARRIVA LA "STRANIERA" ROCIO …
Source: www.davidemaggio.it
Rocio Munoz Morales Stock Photos & Rocio Munoz Morales …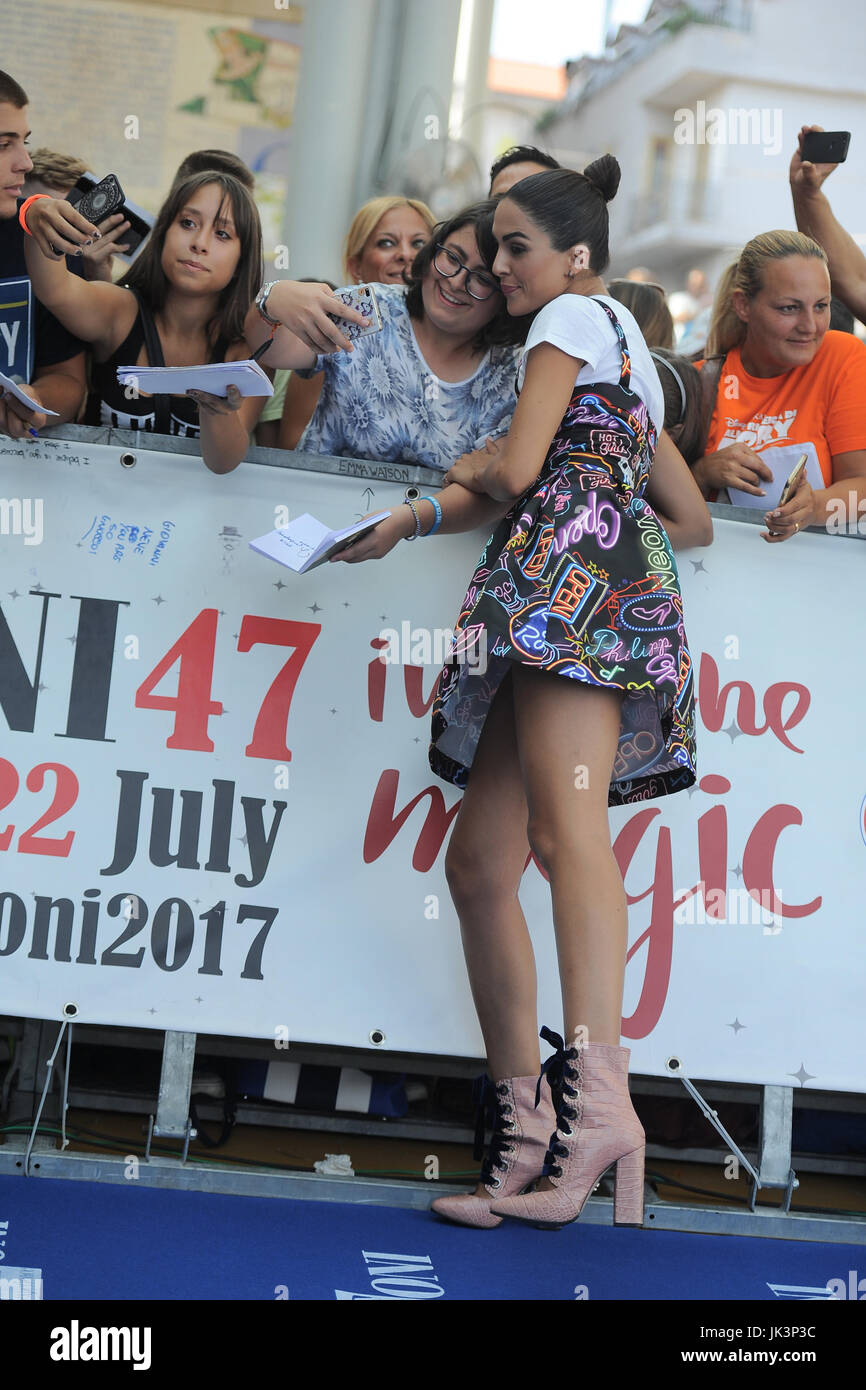 Source: www.alamy.com
Un Passo dal Cielo 4 | Quarta Puntata
Source: www.davidemaggio.it
Sanremo: Rocio Munoz Morales, Emma e Arisa, è una sfida …
Source: www.ansa.it
Rocío Muñoz Morales reginetta dell'Ariston
Source: www.ilgiornale.it
Gossip Sanremo: Rocio Morales e Diletta Leotta fanno …
Source: gentevip.it
Rocio Munoz Morales in bikini
Source: www.stylosophy.it
Rocio Morales (senza voto)
Source: www.corriere.it
Rocio Morales querela Chi per le "corna" di Raoul Bova …
Source: www.superstarz.com
Sanremo 2015: gli abiti di Emma, Arisa e Rocio Munoz …
Source: www.giornalettismo.com
Ecco come vestirà Emma Marrone a Sanremo 2015 (FOTO)
Source: donna.fanpage.it
Diletta Leotta al Festival di Sanremo, la conduttrice Sky …
Source: www.blitzquotidiano.it
Festival di Sanremo 2017 | Outfit
Source: www.televisionando.it
Festival di Sanremo 2015: seconda serata (Foto)
Source: www.nanopress.it
Nicole Fashion Show al Palazzo dei Congressi.
Source: www.lfmagazine.it
Sanremo 2015 | Cantanti e testi delle canzoni
Source: www.unduetre.com
Parla Irene Grandi, veterana del festival: "Quest è il …
Source: www.oggi.it
Rocio Munoz Morales attends the thirth night of 65th …
Source: gettyimages.com.au