Sanremo Festival, the women's dresses that have made ​​us dream. The Ariston stage has seen many guests, presenters and celebrities internationally parading during his sessatatre editions, women who have distinguished themselves for fashion choices often very elegant and sophisticated. A win at Sanremo is always femininity, most often due to enhanced red carpet creations signed by the greatest names in fashion, Italians and foreigners. But let us see what were the dream outfits in the latest editions of Sanremo.
The Sanremo Festival began as an event dedicated to the music, as you can imagine, but very often it was not the singing talents of singers protagonists holding court, but rather their clothes and often daring combinations that have marked the history of Sanremo.
We all remember this day as it spoke of the " butterfly of Belen", is not it? But the edition of Sanremo in 2012 was much more than this little episode. Just Belen Rodriguez and her colleague Elisabetta Canalis have given us some of the best looks ever, surprise on the stage of the Ariston because of a health problem of the supermodel Ivana Mrazova.
The splendid dress bicolor Fausto Puglisi which caused such a stir was just one of the wonderful creations worn by the show girl who knew how to alternate look in really intriguing boyish style with romantic evening gowns, like Elisabetta Canalis, magnificent airy dresses with jewel details. Ivana Mrazova left everyone speechless with her ​​clothes in red, black, white, blush, and with obvious cut-out cuts naked effect that valorized the most of her statuesque body.
The 2013 edition of the Sanremo Festival saw a very different woma
The 2013 edition of the Sanremo Festival saw a very different woman as a great protagonist, Luciana Littizzetto that, however, chose only the perfect clothes for his stature and his jaunty style. Impossible not to mention the outfits worn by the Ariston other super models like Bianca Balti, lovely with her ​​Oscar dress with lace, while among the guests of the same edition you did definitely notice the Parodi sisters with their clothes Blumarine extremely refined.
Unforgettable Women in the previous editions of the Festival are the presenter Antonella Clerici in 2010, Anna Falchi that alongside Pippo Baudo in 1995 as well as the White Guaccero and Andrea Osvart; most eccentric but equally beautiful Sabrina Ferilli, Michelle Hunziker and Vittoria Belvedere, queens of style like few others.
Which looks into the history of Sanremo has made daydreaming there?
Gallery
Copia il look di Elisabetta Canalis [FOTO]
Source: www.stylosophy.it
Sanremo 2012: i look della seconda serata
Source: donna.fanpage.it
Elisabetta Canalis sanremo
Source: www.makeupandtvseries.it
Vestiti di Belen e Elisabetta Canalis a Sanremo 2012 (Foto …
Source: donna.nanopress.it
Sanremo 2012: Belen Rodriguez vs Elisabetta Canalis
Source: www.sologossip.com
Festival di Sanremo: le vallette degli ultimi dieci anni …
Source: www.sorrisi.com
Elisabetta Canalis White Cut Out Gown Prom Dress Sanremo …
Source: www.thecelebritydresses.com
Sanremo 2012: Elisabetta Canalis e Belen Rodriguez …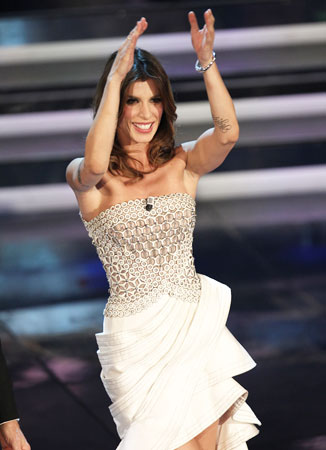 Source: www.milleunadonna.it
Elisabetta_Canalis_Sanremo_2012_01
Source: www.ladyblitz.it
Elisabetta Canalis serena a Sanremo e con Steve-O
Source: blog.shoppingdonna.it
Sanremo 2012: Belen Rodriguez vs Elisabetta Canalis
Source: www.sologossip.com
Abiti Elisabetta Canalis e Belen Rodriguez a Sanremo 2011 …
Source: donna.nanopress.it
Abiti Belen ed Elisabetta , Sanremo 2012, seconda puntata …
Source: donna.nanopress.it
Elisabetta Canalis a Sanremo, gli abiti realizzati per lei …
Source: www.trendandthecity.it
Elisabetta Canalis e Belen Rodriguez a Sanremo 2012: gli …
Source: www.pourfemme.it
Le acconciature di Elisabetta Canalis a Sanremo (Foto 4/8 …
Source: bellezza.pourfemme.it
Elisabetta e Belen abiti e look della seconda serata di …
Source: donna.nanopress.it
Vestiti di Belen e Elisabetta Canalis a Sanremo 2012 (Foto …
Source: donna.nanopress.it
Festival di Sanremo 2012, Elisabetta Canalis e Belen …
Source: www.televisionando.it
Sanremo
Source: www.fashionblog.it